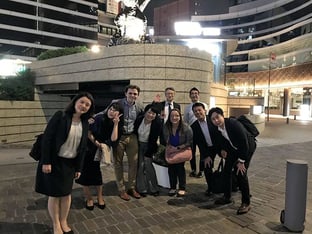 This article was originally featured in Plastics News
Parsippany, N.J.-based Asahi Kasei Asaclean Americas Inc. makes Plastics News' Best Places to Work 2021 list for suppliers at No. 6. It has ranked on the list every year since 2015.
In August 2020, Sun Plastech Inc., manufacturer and distributor of Asaclean Purging Compounds, changed its name to Asahi Kasei Asaclean Americas. The company joined Asahi Kasei Group, a manufacturer centered on chemistry founded in 1922, nearly 25 years ago. It serves thermoplastic injection molders and extruders across North and South America.
When the coronavirus pandemic started, employees who were able started working remotely and schedules were flexible. Asahi Kasei conducted weekly all-hands company meetings to provide updates.

Business Development Manager Jerry Weddell said management went above and beyond to ensure everyone's safety. Kiran Raza, technical sales representative, said it felt like employees' safety was "at the forefront" and that everyone has "each other's backs." The company made internal changes to ensure jobs were safe. Senior leadership took a pay cut, and they volunteered to do so in order for others to continue receiving their full salaries. Asahi Kasei did not lay off a single employee in 2020.


Asahi Kasei pays a large portion of premiums for medical, vision and dental coverage for employees and their dependents. It also pays 100 percent of premiums for life insurance for the employee as well as short-term and long-term benefits. The company matches flexible spending account contributions.
Thirty days after hire, Asahi Kasei employees can contribute to the retirement plan. The company offers a 100 percent match of total compensation in addition to an extra 3 percent for free.
There are 12 paid days off for holidays and 15 days for paid time off to start. Employees can donate unused paid time off to fellow co-workers who might need it. They also work a 35-hour workweek and are off the week between Christmas and New Year's Day.
One unique perk is a free weeklong trip to Tokyo and Kyoto, Japan, for employees to sightsee, learn about Japanese culture and visit the parent company headquarters.
Previous company functions have included dinner cruises, murder-mystery dinners, barbecues, golfing and sporting events. Fun office activities include casual Fridays; costumes for Halloween; champagne toasts to celebrate special occasions; and international food day, where the staff brings in local foods as many employees are from other countries.
"Asahi Kasei Asaclean Americas is the 'best' place to work because of the culture, investment in employees and the people themselves," the company said in its Best Places to Work questionnaire. "AKAC believes in and supports each member of the team, and the team reciprocates that commitment."
Learn about the importance of implementing proper purging procedures by downloading this free industry guide.
Jordan Vitick joined Plastics News in February 2017, and she was promoted to Special Projects Editor in 2019. Previously, she worked as a multimedia editor for Michigan.com, which operates the Detroit Free Press and The Detroit News. Vitick graduated from Wayne State University (Detroit, Mich.) in 2012 with a bachelor's degree in journalism and minor in psychology.