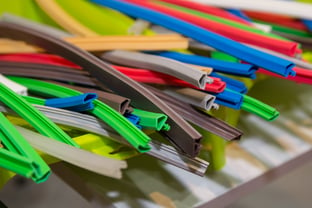 Are you having issues changing colors, losing massive amounts of scrap, or hours of equipment sitting idle while being manually cleaned? Most profile extrusion plants deal with these scenarios on daily basis. These issues are very costly and when left unchecked can drastically affect your profits.
Recently, I was working with a large profile extruder in the Midwest. They were struggling changing colors and looking for a solution. Their biggest issue was changing from blue to white. This color change is extremely difficult. A dark blue line will appear on the white part for hours. Current purge is PMMA. It takes them 2.5 hours and 300 -400lbs PMMA to purge out the blue. Additionally, after running white for an hour or so, spots of blue would reappear. We reviewed the processing parameters. The feed throat was set to 375F ramping up to 395F at the nozzle. Also, there is 3 zone die set at 390F. I sent 50lbs NCR Grade.
At the start of the purge process the blue masterbatch was shut off and ran empty. The hopper and loader system were cleaned thoroughly. The 3 zone die temperature was raised to 450F. Pre-flushed the blue out with 1 system capacity of HDPE (50lbs) and then added the 50lbs NCR grade. Once the NCR was flowing out the die – extruders rpms were set low as possible and contained. The NCR soaked for 15 mins. After 15 minutes all temperatures were set back to process point, loading system cleaned again, and white masterbatch was added. Production was started up white. White color was approved after 15 minutes from start up.
Total purge time was 1 hour, 50lbs HDPE, and 50lbs of NCR grade. Huge savings compared to 3 hours, 50lbs HDPE, and 300-400lbs PMMA!
Stop doing it "the way we always done it" and investigate Asaclean's new purge technology. Chemical purges and concentrates are game changers in all extrusion applications.
Want to save a little more money? Try purging with Asaclean today by requesting your free sample below.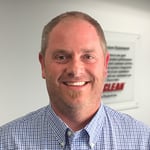 Jerry has over 20 years of experience in mold making & working with Purging Compounds.