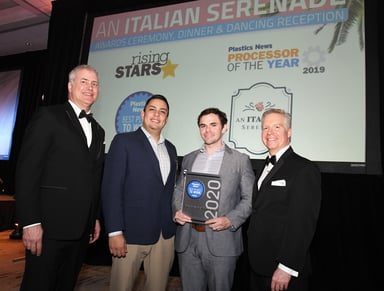 Parsippany, NJ – February 26, 2020– Asahi Kasei Corporation company Sun Plastech, Inc., manufacturer and distributor of ASACLEAN,™ the world's bestselling purging compound, was recently awarded the #1 "Plastics News Best Places To Work" honor at the Plastics News Executive Forum, held in Naples, Florida. This was the first time that SPI won the award and the 6th consecutive year that ASACLEAN-Sun Plastech, Inc. was awarded a spot in the top-ten of the Best Places to Work in the industry.
The award was accepted by Marketing Manager Tom Hanvey and Technical Sales Representative Lenny Gutierrez who gave a speech on the company's behalf. Gutierrez, who has been with the company nearly 20 years, thanked Asahi Kasei, his leadership team, his coworkers, and all of SPI's wonderful customers. In his closing comments, Gutierrez said, "If you feel your company and managers care about you and want you to succeed and be treated fairly, most employees are proud to work hard to help them succeed in return. I've never felt more support or trust than I do here. It's a contagious feeling." This feeling is pervasive throughout the organization.
Crain Publication's Plastics News' "Best Places to Work" award is a survey driven competition designed to identify which participants are the best employers in the North American plastics industry. Managed by Best Companies Group (BCG), an independent research firm that specializes in identifying and recognizing great places to work, information and input is obtained from employee satisfaction surveys and management questionnaires.
For the full announcement, visit Plastics News.
Learn about the importance of implementing proper purging procedures by downloading this free industry guide.