Oxidation and polymer degradation are common problems in plastic processing. When Oxidation takes place, the resin is open to various levels of polymer degradation that can show up as burns, gels, black or brown spots, and other common but costly plastic defects.
As we approach the 4th of July, a common time for summer shutdowns, consider this scenario which many processors can relate to. You show up to work on the morning following the shutdown, ready to get your production running full tilt.
The machines are heated up and you begin purging out the resin left in the screw and barrel and flush it with fresh virgin resin. You immediately notice small black specs in the purge pile that can carry on into your production run that sometimes lasts for hours. They render your production parts either poor quality or subject to hours of quality inspection. These kinds of defects are caused by oxidation.
As the resin left in the barrel cools down during shut down and heats up during startup, the oxygen present in the system lends to the degradation of the plastic resin. This can be a nightmare during startups.
Luckily, there is a way to prevent these nightmare scenarios from taking place. When you shut down and seal with a commercial purging compound like Asaclean, you will not have contamination and your startups will be much smoother. Non-filled grades of purging compound that are recommended for shut down and sealing can be run through the system at shut down and seal off the screw and barrel, dies, and hot runners so that oxidation does not occur.
Purging compounds are generally more thermally stable than production resin and can withstand the heat variations that come with shutdowns and startups. The purging compound also shows very little affinity to metal, so it is easier to flush from the system with production resin once you're ready to go into production after the heating process. All of this leads to easier startups, less scrap, and reduced downtime.
Sealing with Purge isn't the only way to reduce downtime. Learn more about how to reduce production downtime and protect your profits with a purging compound.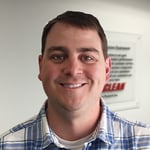 Jeremy Cooley is an Asaclean Technical Service Representative & Purging Expert living in South Carolina. He's worked in injection molding & purging for over 15 years, and frequently presents at national plastics trade shows and conferences.