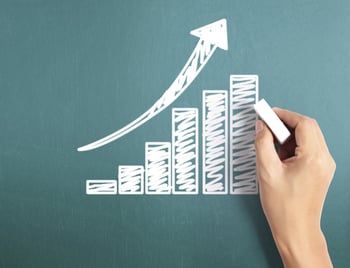 Today's competitive plastics processing market demands faster deliveries while maintaining stricter product quality control. Controlling production downtime is imperative in order to operate a profitable company. Screw-pulls are very time consuming, wasteful and expensive.
The Problem: Five Screw-Pulls Per Week
A Tier 1 automotive molder was having problems with carbon contamination and color streaking, especially when transitioning from PVC to nylon. The nylon was not completely displacing the PVC. When looking at the purge pile, it was all nylon and no PVC, deceptively leading the molder to believe the machine was clean.
In actuality, the PVC was just pushed aside and would then get stuck in the nozzle area and check ring. When raising the temperatures above the PVC processing temperatures to get to the nylon processing temperatures (500°F and higher), the leftover PVC, of course, would degrade. (PVC is a very heat-sensitive material and is notorious for carbonizing when overheated or left in the barrel for too long.)
The company was pulling five screws each week for this application. Each screw-pull was taking 4.5 hours on an 1100-ton injection molding machine, resulting in 22.5 hours of production downtime per week.
The Solution: ASACLEAN's EX Grade Purging Compound
A technical sales representative from Asahi Kasei Asaclean Americas visited this automotive molder to introduce a free trial run of EX Grade glass-filled purging compound.
After running the press empty and raising temperatures to 410°F across the board, a very slow screw rotation was started so as not to further degrade the PVC with sheer heat. They used 10 lbs. of EX Grade purging compound on this machine with a 190-oz. barrel.
At first, they purged 5 lbs. of EX Grade at 410°F. Once they felt that most, if not all, of the PVC was out of the barrel, they raised temperatures to the nylon processing temperature of 525°F, and purged the remaining 5 lbs. of EX Grade.
The Result: $21,600 Savings In One Month
The glass-filled EX Grade purging compound pulled out lots of small black specks. They then flushed the EX Grade with 10 lbs. of white nylon, and the last of the nylon looked great – pure white color with zero black specks or carbon contamination. Never before had this changeover been completed without pulling the screw.
They then pulled the screw at 450°F to examine the screw and barrel and make sure they were thoroughly cleaned and ready for the next production run. Everything looked good and the screw was perfectly clean. Any slight traces of EX Grade left behind were quickly wiped off.
Next, they conducted the same test without pulling the screw between production resins. The EX Grade purging compound cleared out with just 10 lbs. of the white nylon. Only the first part was lost, due to a short shot, but it had zero carbon or colorant contamination. The next shot was full and looked great.
Using EX Grade for the purging process took:
30 minutes purge time

15 lbs. ASACLEAN

10 lbs. nylon to displace the ASACLEAN

$135 total changeover cost
Versus without EX Grade:
4.5 hours downtime

100 lbs. polypropylene to purge

$694 total changeover cost
The difference in the upfront financial: a changeover cost of $694 for the screw-pull method versus $135 using ASACLEAN EX Grade.
Now, changeover-related screw pulls are nonexistent for this automotive molder. ASACLEAN eliminated 180 hours of production downtime per month, at a machine running rate of $120 per hour. This translates into $21,600 savings in one month. That's an $800 per month investment on a purging compound that saves over $21,000 per month.
Ready to reduce your production downtime to protect your profits? Learn more about how purging compounds and process efficiency work in tandem.