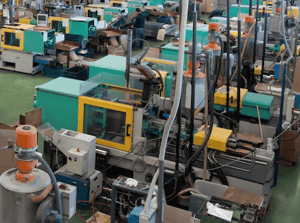 If you've ever worked for or been a part of the opening of a new injection molding or extrusion plant, you probably ran into one or more of these situations:
New machines that need to be tested in operation

Pre-owned or relocated machines requiring maintenance and overhaul

Validation of new products

Low initial production leading to frequent stoppages

Inexperience of: operators in general, correct resin processing, learning curve with the mold and machine, and specific part conditions.
All of these situations will arise, and they all require the machine to be properly purged. This will help to maintain the equipment in good condition, operating in a systematic, correct and consistent manner. Whether your plant and machines are brand new or not, they still require purging and ongoing maintenance.
In general, it is useful to have two types of purge onsite: Preventative & Reactive.
The preventative approach to purging will be used mainly in the cases of new machines, validations and situations of low production. This will help us with the change of resins, colors, prevention of carbonization. The benefit of this is that the plant will start using good practices, efficient techniques that will allow us to have low scrap, little downtime and a reduction of the learning curve.
The reactive approach to purging is more important with used or relocated machines since it is always good to completely clean them and to pull the screw to know its state before you start production. Assume used machines are dirty and react accordingly. There is usually more time available to make changes to a machine at startup compared to when we must already produce and deliver parts.
In addition, corrective purge will inevitably have to be used at some point due to involuntary failures that occur while we learn something new and when we continue to do plant installations that cause machine failures. For example, electrical failure and the barrel was loaded, an operator mixed the wrong resin, etc. We recommend this purging compound be a strong cleaner that will help when you have "fires" you need to put out on the floor and are struggling with scrap or contamination.
Consider purge compounds for start-up and keep in mind that a plant's start-up can generate more than 10% waste just because it doesn't have the right tools and practices.
Ready to reduce your production downtime to protect your profits? Learn more about how purging compounds and process efficiency work in tandem.