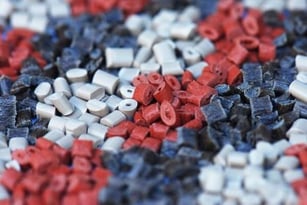 To succeed in the competitive plastics processing industry, it's essential to maximize efficiency. Controlling production downtime and reducing the time it takes to switch between colors is critical to operating a profitable company.


The Problem: Long Changeover Times And Color Contamination

A large automotive injection molder was having problems with long changeover times specific to hot runner systems. The problem was most prevalent when changing from black to lighter colors – such as gray and beige – on a 1650-ton injection molding machine.

At the time, the company used a competitor's purging compound to facilitate the color changes, but the entire changeover was taking an hour-and-a-half. Additionally, the company used up to 80 pounds of purging compound, with an additional 25 pounds (or more) of production resin to replace the purge.

Even with this extensive process, the company continued to see color contamination and streaking for hours before it started to run acceptable parts. Issues existed with both improper cleaning and displacing the current purge after cleaning.


The Solution: ASACLEAN's UP Grade Purging Compound

After working with a technical sales representative from Sun Plastech, the automotive molder tried ASACLEAN's UP Grade purging compound, which is specifically formulated for polypropylene applications.


The Result: $288 Savings Per Color Change

With ASACLEAN's UP Grade, the automotive molder completed its color changes 45 minutes faster.

In addition to reducing changeover times, the black polypropylene was thoroughly removed from the system with just 30 pounds of UP Grade. Also, to replace the purge, only an additional 20 pounds of production resin was required. The screw, barrel and manifold were sufficiently cleaned and production resumed with acceptable light-colored parts.

On this one 1650-ton injection molding machine, UP Grade saved the automotive molder $288 per color change, which was a 55 percent cost reduction. The company also reduced production scrap rates.

Learn more about how to reduce production downtime and protect your profits with a purging compound.