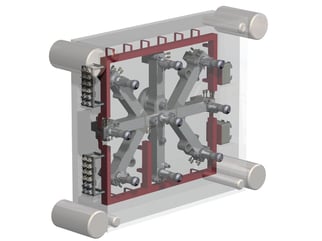 Earlier this year, a process engineer from an injection molding plant primarily serving the automotive sector reached out for help. He was trying to facilitate a black Polypropylene (PP) to black Polypropylene (PP) material change (underbody panels for Nissan), and wanted to know what specific grade of Asaclean to utilize for this application. He had two different grades of Asaclean in-house already and was not exactly sure what tool to use.
He was seeing shot-to-shot inconsistency of parts on a 3500T Engel press (150 mm barrel). This press was equipped with a hot runner manifold using Independent Cavity Control (ICC) system from RJG. The symptoms he was experiencing were ring drift issues, viscosity mismatch readings, and not being able to reach the correct cavity pressures to fill out the parts.
After troubleshooting with the process engineer to determine what could be causing his shot-to-shot inconsistency of parts, I learned these were different PP materials. They had different melt indices (MI) and heat profiles. He was not exactly sure of the melt index of either PP material, but was confident that he was going to a higher melt index that was less viscous. Furthermore, he was certain he was going from a temperature of 440F up to a hotter temperature of 485F since it was a thinner-walled and larger part.
To help this process engineer, I recommended:
Raising the heat profiles up to 485F since that is where the temperatures were going already
Using a mechanical PP-based purge compound since it had the equivalent carrier resin as their production materials
Adjusting the machine's processing settings, so that it matched Sun Plastech, Inc.'s recommended mechanical purge instructions for injection molding
After reaching back out to the process engineer to see how things went and if the recommendations enhanced the process, he reported back, "all I can tell you right at the moment is that some of the Asaclean was run through the 150 mm barrel of our Engel press and we seemed to end up with better shot-to-shot consistency." He got out of his processing pinch, the recommendations helped and enabled him to make parts for an order for one of their customers.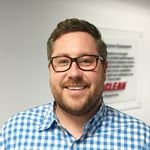 Ben Moore brings over 20 years of experience as a Purging Expert at Asaclean Purging Compounds, a leading manufacturer and distributor of purging compounds. As part of Asahi Kasei Plastics North America, Inc. (APNA), Ben has personally assisted hundreds of customers, helping them achieve significant cost savings. Based in Parsippany, NJ, Ben specializes in optimizing operations for thermoplastic injection molding, extrusion, compounding, and blow molding processes. His expertise lies in maximizing production efficiency by minimizing downtime and reducing scrap. For those interested in trying Asaclean products or seeking expert guidance, feel free to contact Ben directly. You can contact him at 800-787-4348, extension 227, or via email at bmoore@asaclean.com.