For those who are purge compound decision makers and users, how much does it cost you effectively purge your injection molding or extrusion machines? What are the multiple costs associated with it?
While some of you may or may not know these costs (it is perfectly okay if you do not), it is easier than one may think. Either way you slice it, it costs your organization money to purge and clean your machines.
I pose this question: why not make the most of it and minimize your expenditure?
In my blog today, my hopes and purposes are to boil and break down these various costs into smaller bite sizes sections for you. Let's just say, at a minimum, I am trying to make it more palatable.
Here's the associated cost factors and what you need to know about purposely purging:
1.) Cost & Quantity of Purge Used
This one is widely known & clear. It is the amount of purge used times the price per pound of it. While the price per pound is important, the quantity used & performance matters too. For example, 10 lbs. of purge @ $1.00/lb. = 5 lbs. of purge @ $2.00/lb. Factor in how much quantity is needed to get the job done.
2.) Estimated Machine Running Cost & Time Spent
Now this one is less known & discernable than above. It is the machine's estimated running cost (aka machine burden) times downtime. The Machine's burden cost varies for a myriad of reasons such as location, machine size, labor costs, equipment costs, energy cost, oil costs etc.. Time = money, and this is the money saver. Factor in how long the machine is down and not making parts (from good last part to good first part)?
3.) Cost & Quantity of Next Resin Used
Like the previous example, this one may not be as evident and sometimes is overlooked. It is the amount of replacement (or next) resin used to clear/displace the purge compound from machine times the price per pound of it. Think of it as "Purging the Purge." Anyone who has battled with getting a purge compound out of the machine, knows this far too well. Factor in how much quantity is needed to clear the purge and make good parts.
As some expert once said, "The savings obtained in the reduction of downtime and scrap, should always outweigh the cost of the purging product."
From a high-level lens, keep in mind why purposely purging means something. It means taking a holistic, higher-level approach to minimizing purging costs, while saving your company large sums of money and maximizing your productivity.

Are you curious about learning the best purge procedures and leveling up your purging program? If you are interested in learning more, schedule a free 10 minutes consultation today.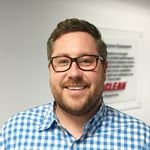 Ben Moore brings over 20 years of experience as a Purging Expert at Asaclean Purging Compounds, a leading manufacturer and distributor of purging compounds. As part of Asahi Kasei Plastics North America, Inc. (APNA), Ben has personally assisted hundreds of customers, helping them achieve significant cost savings. Based in Parsippany, NJ, Ben specializes in optimizing operations for thermoplastic injection molding, extrusion, compounding, and blow molding processes. His expertise lies in maximizing production efficiency by minimizing downtime and reducing scrap. For those interested in trying Asaclean products or seeking expert guidance, feel free to contact Ben directly. You can contact him at 800-787-4348, extension 227, or via email at bmoore@asaclean.com.