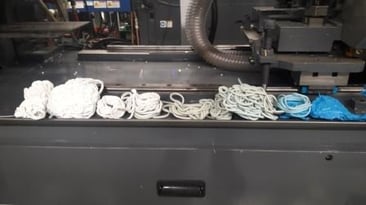 The best technique to keep your injection molding machines screws and hot runner systems clean is by using a commercial purging compound. Commercial purging compounds are formulated with cleaning in mind.
The most optimal time to use a commercial purging compound is during a color/ material change, machines starting up, or shut down. In injection molding you want to make sure the screw speed and back pressure are at the maximum safe setting when purging. This will ensure the purging compound will have enough pressure and shear power to clean out the barrel and/or hot runner tips. You will want to continue using the purging compound until you cannot see anymore color or contaminants coming from the barrel or hot runner tips.
Companies that want to get the most out of their injection molding machines, should use a commercial purging compound. Purging compounds take change-overs that need hours to complete and can compress it to 30 minutes or less. They are manufactured to cleanse injection molding machines of contaminants and be able to start the next job in a more considerate time frame. Next time you have a change over that is abolishing your scrap rate, please contact your technical service rep and they will be able to help with any needs.
If you have any questions on how to implement a Purge Program for super-engineering resins, request your free consultation today and learn how to supercharge your profits.
Ready to reduce your production downtime to protect your profits? Learn more about how purging compounds and process efficiency work in tandem.