In my blog today, I hope to deliver some easy-to-digest and basic truths about the untruths and try to break down and bust some purge compound myths out there for thermoplastic processors.
Let us plunge right into it.
Here are 3 Myths to Remove from Your Purging Program:
Myth # 1
The idea that all purge compounds are created equal, and one purge works for everything, is myth #1. A one-end-all, be-all purge compound tool to handle anything, everything, and all issues. Far from the truth. There are just too many various purging scenarios and combinations coupled with the plethora of different resins, additives, processing temperatures, systems, equipment, configurations, etc. It is like thinking you can use one tool to fix every part of a car.
Myth #2
Myth 2 is the belief that purge compounds should not (or cannot) go into/through hot runner manifolds and purge them. Further from the truth. I hear things to the effect of, "It's too much risk" or "we simply don't purge our hot runners." While it is understood that manifolds and tools come with elevated investments and can be pricey, they must be preserved, and perfectly okay to be leery purging them (especially if it has never been done before), purging hot runners successfully has been done by commercial purge compound suppliers for decades. Certainly, and like above, it cannot be done with just any purge compound. It needs to be done using the proper, recommended purge tool for the specific hot runner manifold alongside doing it with the best, recommend hot runner cleaning method (example: open mold method vs. closed mold method). It is not necessarily about it cannot be done, it is more likely and about it has not been done before.
Myth #3
The third myth is the notion of choosing a purging compound's value on the rock-bottom price basis alone is the way to go. Furthest from the truth. Performance, quantity used and getting the job done in the fastest duration of time matter and should be the emphasis. Time is one of the most precious assets a manufacturer has. While most everyone can appreciate the burning desire to minimize costs, the attention should be more centered on choosing a purging compound that yields the lowest Cost Per Purge for any given process. As the great Ben Franklin exceptionally wrote, "The bitterness of poor quality remains long after the sweetness of low price is forgotten."
These fables above are not quarantined to one specific industry and/or process of the plastic market. They are received from thermoplastic manufacturing plants across the broad spectrum within industries such as Injection Molding, Injection Blow Molding, Extrusion Blow Molding, Sheet Extrusion, Blown Film Extrusion, Cast Film Extrusion, and Compounding. And with respect to processes, some examples are Automotive, Custom Molders, General Industrial, Electronic, Consumer Products, Packaging, Medical, and Aerospace.
It is clear and worth mentioning these are my subjective opinions, so please take these suggestions of removal with a grain of salt.
What myth do you feel you should be removed, if anything, from your purging program? Want to learn more about how to reduce production downtime and protect your profits with a purging compound?
Are you curious about learning the best purge procedures and leveling up your purging program? If you are interested in learning more, schedule a free 10 minutes consultation today.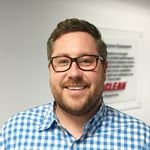 Ben Moore brings over 20 years of experience as a Purging Expert at Asaclean Purging Compounds, a leading manufacturer and distributor of purging compounds. As part of Asahi Kasei Plastics North America, Inc. (APNA), Ben has personally assisted hundreds of customers, helping them achieve significant cost savings. Based in Parsippany, NJ, Ben specializes in optimizing operations for thermoplastic injection molding, extrusion, compounding, and blow molding processes. His expertise lies in maximizing production efficiency by minimizing downtime and reducing scrap. For those interested in trying Asaclean products or seeking expert guidance, feel free to contact Ben directly. You can contact him at 800-787-4348, extension 227, or via email at bmoore@asaclean.com.