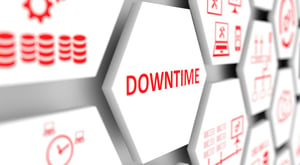 When carrying out maintenance on your machines, manufacturers can exhibit downtime from anywhere between a few hours to several days. Sometimes taking the machine apart for a complete teardown is a necessity, as parts may need to be replaced or manually cleaned and often this will lead to 5-6 days of machine downtime.
Recently I performed a trial with a customer where a chemical purge was recommended as an interim to reduce the no. of times the machine is being taken apart for a full tear down. The prospect of reducing teardowns can be an immense one, as it will often be a processors nightmare due to the time and effort involved, not to mention the number of days away from production. If a manufacturer is currently completing a tear down once every 6-8 weeks, there is a high probability that introducing a regular purging regime will reduce it to once every 8-12 months.
For machines that experience heavy contamination, and for multi-layer extrusion lines in particular, a chemical purge will be recommend rather than a mechanical purge. Although mechanical compounds clean on-the-fly and do not require a soak time, in these instances, spending anywhere between 1-2 hours for a deeper clean is much more effective, especially when comparing this to a teardown time of days. We offer 4 different types of chemical compound, each one is effective for removal of contamination across entire systems (including dies, hot runners etc), and the type of chemical purge recommended will be dependent upon your process and the types of resins you are processing.
One blown film extruder utilized one of our chemical purge compounds on their 7- layer extrusion system, it was flushed with virgin PE before filling each extruder with Asaclean's NCR Grade purge. The temperature was increased in all zones to 260C (30C above regular processing temps). The purge was allowed to soak for 15 minutes once, then the machine was emptied and re-filled with clean purge. For the second soak heats were increased at the die only, by an additional 30C, and the purge was allowed to soak for an additional 15 minutes. This 2-step purge process is extremely effective for machines that experience heavy contamination, and by focusing the heat in the most problematic areas of your machine i.e. the die it allowed us to pin-point cleaning where it was needed the most.
The machines were taken apart 2 days after this purge (as part of a quarterly maintenance), on removing the die, the maintenance team found the die was completely clean. Where manual die cleaning would usually take anywhere between 2-3 days, by eliminating this step from machine teardown, they were able to reduce total machine downtime from 6 days to 3 days. Following this result, the processor was also able to reduce teardowns from once a quarter to once every 6 months. Implementing a regular purging regime here was able to save the customer weeks in reduced machine downtime.
Ready to reduce your production downtime to protect your profits? Learn more about how purging compounds and process efficiency work in tandem.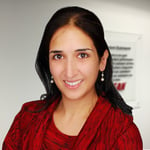 Kiran Raza is an Asaclean Purging Expert & Technical Sales Representative. She's worked in the plastics industry for nearly 20 years and has expertise In Bio-Medical Materials, Polymer Processing, and Materials Testing.