In the Caps and Closures industry, high cavity hot runner tools are a great way to maximize production and reduce waste. We see a lot of 28, 32, & 64 + cavity tools. These are highly engineered and impressive works of art. These are fast cycling, high-volume producing machines. However, despite the amount of ingenuity and design we rarely see these tools running at 100% capacity. The truth is that in many cases these high cavity tools are down 10-50% in cavities (sometimes more) robbing you of your much-needed production which inevitably increases your operating expenses.
I recently had a company in the Caps & Closures industry reach out to me for help regaining some much-needed cavities. They were currently running at only 60% capacity on their tool and were hesitant to stop to fix the problem due to the high product demand. After a quick conversation explaining that we could clean their tool using the same production material in a short period of time without having to pull the tool for repair. I showed up with our new PLUS Grade concentrated purging compound.
Due to the severe contamination inside the manifold and nozzle tips, we mixed the PLUS grade at a 25% mixture with their 12mt PP. We started by floating the A-side cavity plate over to the B-half and removed nozzle tips and increased the temperature on all zones on the manifold heaters by 50 degrees. While the manifold was heating up, we quickly retracted the sled and thoroughly purged out the barrel. Once the barrel was clean and the manifold was up to temp, we began to purge through the manifold with tips still removed. We immediately began to see contamination pouring out of the nozzles. After a few much-needed heat soak periods with the PLUS grade inside the manifold the purging compound began to come out clean. Next, we re-installed the nozzle tips, let them come up to temperature, and then began to purge through the manifold once again. This time to clean and clear the tips. With this strategy, we were able to separate and purge clean individual key components without causing further issues by introducing contamination down the line. (This is not always needed)
Without having to pull the tool for repair and a much shorter period of machine downtime than expected the customer was extremely happy that they were able to resume production the same day with now running 88% in tool capacity. We ended up finding some damaged tips but with a 28% increase in productivity, the customer had a big smile.
For the Caps and Closures industry, continuing to run production with a tool that has been severely impacted with clogged or blocked cavities through the night until you get proper support can be an easy short-term decision but in the long term carries a severe impact on your margin by increasing your production cost and lead times. Our new PLUS grade concentrated purging compound has shown in many cases to be a powerful solution that now gives you the option to briefly stop production and use your current production material to create a purging compound and quickly get your much-needed cavities back.
Ready to reduce your production downtime to protect your profits? Learn more about how purging compounds and process efficiency work in tandem.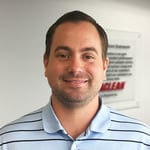 Hank Moeller is an Injection Molding and Purging Expert with over 20 years of experience in a processing environment.