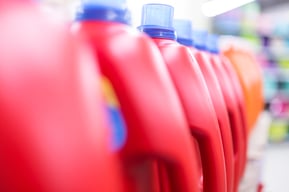 Blow molders face all of the same processing challenges as molding and extrusion shops, but their challenges have always been a little harder to solve. Some of the nuances in blow molding have turned off many processors to the idea of trying to use purging compounds at all. There is some good news. Purging compounds have gotten much better over the past several years, and products like our new PLUS Purging Concentrate are making blow molders lives much easier.
I recently visited a customer in the Midwest who was struggling with color changes going from dark to white. Their blow molding machine was a 2 in. single-screw extruder with a 30 lb accumulator head. Up until very recently, there weren't any strong options for cleaning accumulator heads. Fortunately, that's changed.
When purging out an accumulator head you need to make sure you fill it up at least 10% higher than the amount you are using for production. To ensure that it is clean, you should fill it up completely. This can be a delicate process in that if you do not clean the accumulator effectively if will cause problems down the road during the next run and maybe longer.
Accumulator heads need to be cleaned above the level they are normally ran at to ensure all the contamination is out of them and ready to mold good parts.
The customer was able to clean out their machines in half the time using a commercial purging compound. Before they were just using virgin resin to clean out the machine and it was taking over 4 hours and causing major headaches for their techs. We filled the accumulator head all the way up to ensure that the head was fully cleaned and ready for the next run. After the commercial purging compound was introduced, we were able to get the change over time down by half to less than 2 hours. This was a huge savings that completely changed both the profitability of their production line and the morale of the processors. While the nuances of blow molding still make purging challenging at first, a consultation with a purge expert can go a long way in getting your team running much more smoothly.
Ready to reduce your production downtime to protect your profits? Learn more about how purging compounds and process efficiency work in tandem.