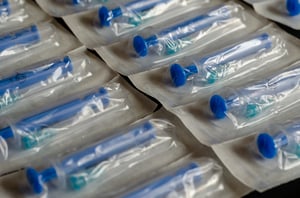 One of the routine challenges Medical Extrusion processors face is the need to overhaul screw and barrels between materials and runs. An important and required procedure to prevent contamination. In order to meet the stringent quality standards for the medical products being produced.
Pushing the screw allows for a manual cleaning and inspection prior to the next job or run. Doing so on its own can lead to increased downtime and labor effort required. Repeated use of wire brushes or wheels can eventually lead to isolated areas of wear and overall compromised integrity of any coatings.
Using a purging compound prior to pushing the screw will minimize these costs and any potential for damage. Mechanical type purging compounds, such as Asaclean EX Grade contain specialty additives. That are engineered specifically to help with reducing the overall time and effort required. Proven effective repeatedly, and industry wide.
Purging compounds will provide a "consistent, aggressive cleaning and removal of material and carbon deposits." By letting the machines power do the work, you will soon realize the mechanical advantage. Greatly reducing the need for manual removal of residual contaminants with a brass brush or wheel.
When the time comes to push the screw, rather than exerting force or muscling the screw out of the machine, an almost effortless removal is now possible. Making the process safer and with less overall labor effort. Minimizing machine downtime.
Asaclean EX grade works for many types of resins found in medical applications. It has an operating temperature range of 390-680F (200-360C). When processing high temperature super engineering resins, Asaclean EX can be used in conjunction with Asaclean PF or PX2 grades. By removing the super engineer resin first, then bridging the temperature and introducing EX to complete an efficient and effective screw push.
If you would like additional information and some useful tips on maintaining machinery and best practice purging methods, please contact your Asaclean Technical Sales Representative.
Learn about the importance of implementing proper purging procedures by downloading this free industry guide.