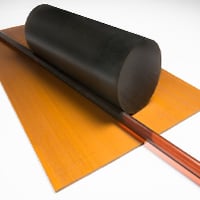 Super-Engineering resins run at extremely high temperatures and require purges with a greater thermal stability as well as premium cleaning performance. Only purging compounds like Asaclean PX2 & PF Grade which specifically engineered for these characteristics can properly remove resins like ULTEM (PEI) from injection molding systems.
Many resins in this class are difficult to remove and due to the high cost of the resin itself, virgin is not a smart (or cost-effective) option for purging. A lack of proper purging can result in resin degradation during subsequent runs. In other cases when the system is cooled before pulling the screw for maintenance cleaning, the resin is very difficult to remove from the screw flights.
During a recent customer purge trial of ULTEM purging methods at an injection plant, we achieved success with a super PX2 resulting in a 54% reduction of scrap. In this case, the need to purge was between a change from black ULTEM 2210 with 20% fiber to a natural ULTEM 1010 on the same machine. After running the purge, there were 3 rejects and 550 good parts. This improvement meant that it was not necessary to pull the screw that day. Although this is a better-than-average result, it is not uncommon to see PX2 be this successful in this application.
Ready to reduce your production downtime to protect your profits? Learn more about how purging compounds and process efficiency work in tandem.