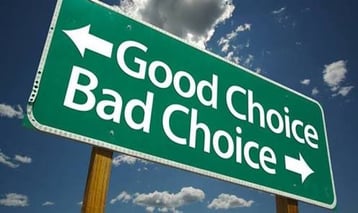 When processors start using purging compounds, many do not know where to start when it's time to choose a grade. They might incorrectly assume that one-size-fits-all or that all purging compounds are the same. This is not true. While it's always a best practice to have a free expert purging consultation to learn what purge is best for your resins, process, and goals, sometimes processors do not take this step. This blog will share some high level recommendations for which Asaclean grades we recommend in most situations. If you've been reading our blog regularly, you will know that we go out of our way to make these blogs educational and not salesy. That said, we receive frequent requests for basic grade recommendations so we decided to highlight a few of our common solutions.
Now, let's try to imagine what happens inside the barrel to help make a better decision of which method to use. When charging a full shot, imagine a cylinder-shaped quantity of purge created in front of the screw, and when the shot is injected the center of this cylinder is pushed right out of the machine in one fell swoop. All of that purge quantity exits the machine with just one movement of the check ring without giving the purge the best opportunity to scrub and clean. On the other hand, performing short shots allows the purge to move the valve many more times (using the same amount of purge created with one full shot) and helps generate pressure changes in the nozzle area using more efficiently the amount of purge fed, and thus drastically reducing the purge quantity required.
Grade selection focuses primarily on the resin being displaced, processing temperatures, MFRs, and your processing goals. While there is no one-size-fits-all solution, there is a category of products called "General Purpose" Purging Compounds.
For example, if you are running basic color or material changes for production resins between 180°C to 360°C (355°F to 680°F),* we usually recommend U Grade as it's our top-performer for these situations.
If you are running similar resins in clear applications where residue is an issue, we recommend our PLUS Grade Purging Concentrate or E Grade Purging Compound in most applications.
For severe contamination/carbon issues and for easier screw pulls, we recommend EX Grade--the best cleaner available today.
For PEEK and other super-engineering resins running at very high temps, there are no better options than PX2 Grade & PF Grade.
For difficult processing situations including blow molding, hot runners, etc., we usually recommend PLUS Grade or our Chemical Purging Compounds like NCR Grade.
For all of our suggestions, please follow our instructions carefully. Even the best purging compound will underperform when used incorrectly. Take the time to learn the correct purging procedures. We offer free onsite and/or virtual training sessions for Asaclean, so your processors can become purging experts, too.
These are some options that we recommend in some common situations, but since our free consultations literally take less than 10 minutes, it's a better option 99.9% of the time for you to just work with a Purging Expert and get the best choice for your situation.
*If using material between 330-360°C (625-680 °F), local ventilation is required.
Ready to reduce your production downtime to protect your profits? Learn more about how purging compounds and process efficiency work in tandem.